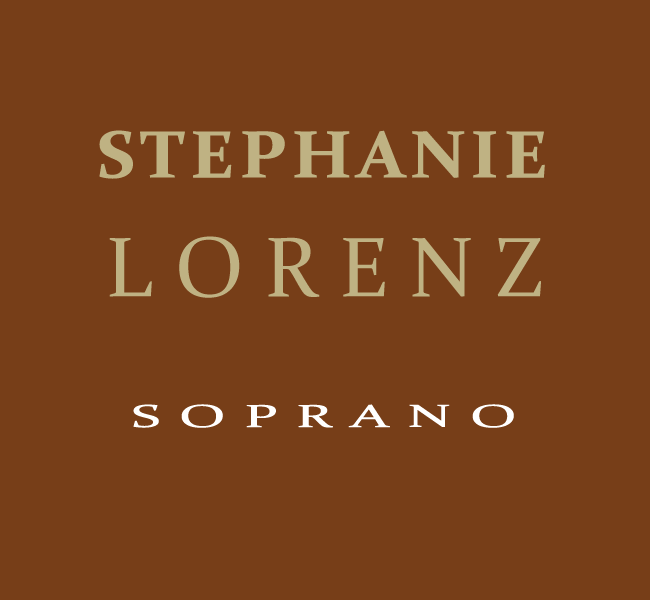 About Stephanie
German American soprano Stephanie Lorenz has been described as having "a one in a million voice" by Maestro Jack LiVigni of the Curtis Institute of Music. A voice that is appreciated for its velvety timbre and is especially well-suited for music by Handel, Mozart, Bellini, and Puccini. In April 2022, Stephanie made her role debut as Donna Anna in DON GIOVANNI (Mozart) in Greece at the Apollon Theater with Teatro Grattacielo and the Sinfonietta Hellenica led by Maestro Georgios Galanis.

"Stephanie Lorenz was an astonishing Donna Anna - it was also her first debut and it was fantastic." - Nora Ralli, a journalist for Greek Newspaper EFSYN.

In July, Stephanie traveled to Sicily to make her debut in the role of Mimì and will cover the roles of Musetta from LA BOHÈME (Puccini) and Gilda from RIGOLETTO (Verdi) with the Mediterranean Opera Festival. Last Fall 2021, Stephanie made her role debut as Suzel in L'AMICO FRITZ (Mascagni) with Teatro Grattacielo and Queens Symphony in NYC. Following this, she covered the role of Adele in DIE FLEDERMAUS (Strauss) with the Gulfshore Opera conducted by Maestro Jorge Parodi for the World Premiere of the new libretto THE BAT'S REVENGE written by Director Josh Shaw.
This past February, Stephanie was featured with the baritone Christopher Holloway in the (New Music) World-Premiere of Dr. Dawson Jr.'s 'Songful Cycle' together with the Chamber Orchestra of Sarasota in Florida.
In March, she was touring with the Gulfshore Opera Divas throughout Southwest Florida presenting their 'Songs of Ireland' Concert. She then sang the title role in the premiere of the (New Music) operetta 'Song of the Immigrant: The Story of Ruth' also by Dr. William Dawson, Jr. in April. Stephanie is also an avid recitalist. Her most recent was a Spring concert with contralto Helen Tintes and pianist Isabelle Aubin this April with proceeds collected for the Ukrainian Humanitarian Crisis.
Sept 2022 |
Don Giovanni (Donna Anna) Mozart
Rhodes International Festival
Palace of the Grand Master of the Knight
City of Rhodes, Greece
Purchase Tickets
Jul 2022 |

La Bohème (Mimì, role debut / Musetta, cover) Puccini
Mediterranean Opera Festival
Caltagirone, Sicily

Apr 2022 |
Don Giovanni (Donna Anna, role debut) Mozart
Apollon Theater, Syros, Greece

New Music Operetta World Premier:
RUTH: Songs of the Immigrant
(Title Role) Dr. William Dawson, Jr., composer
Cypress Cove Community Center
Fort Myers, Florida

Ukrainian Humanitarian Fundraiser Recital:
Helen Tintes, Contralto
Isabelle Aubin, Piano
St. Monica's Episcopal Church
Naples, Florida

Mar 2022 |
Songs of Ireland Tour
Gulfshore Opera Divas in Florida
Feb 2022 |

New Music World Premier:
Songful Cycle (Dr. William Dawson, Jr., composer)
Christopher Holloway, Baritone
Chamber Orchestra of Sarasota, Fl

The Bat's Revenge (Adele, cover / Ensemble) Strauss
Dir. Josh Shaw
Gulfshore Opera, Estero, Florida

Nov 2021 |

L'Amico Fritz (Suzel, Caterina)
Mascagni
Teatro Grattacielo, New York, NY USA

Jul 2021 |

Liederabend
Grand Cypress Room, Shell Point

Apr 2021 |

Solo Concert: "A Woman's Love and Life"
Virtual Concert